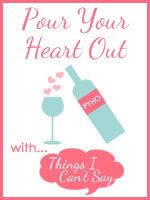 *** This just might be the hardest blog I have ever written. Most of the time, I keep all of this in, but since a lot of my blogs seem to go into some sort of detail about it, I'll explain.....
The first time I remember one of my parents really making me feel like I was unwanted and unloved was when I was 13 years old. My dad told me that when my mom told him she was pregnant with me, he told her to get an abortion, and still wishes that she did. Before that day, I never really felt like I was part of the family I lived with. I was always messing up. My room wasn't clean enough, my grades weren't good enough. "Why can't you be more like your sister?" rang in my ears all of the time.
I moved out of my parents house right after I turned 18. (I had tried to move out before then, but they always called the police and they always brought me back.) I had to quit high school so that I could get a job. After about 6 months, I decided that I want to go back to school. The only way I could do that was to move back home. I begged. I pleaded. Finally, my dad told me if I signed up to join an armed force when I graduated, I could move back in and finish school. I choose the Navy and went back to school. I threw myself into school and working after school at the Nave office. Studied for the ASVAB, and took the test. (Scored pretty well, too!)
A few months before I graduated, something unexpected happened. The boy that was always there when I needed him stepped into a light in my eyes, and I saw him in a whole new way. I fell in love with him. (He had loved me from the beginning.)
The night I graduated, my dad told me I had to move out. That night. Josh talked his parents into letting me move in with them. I didn't go to the Navy. We got married, in secret, 2 months later. A month later, I was pregnant. Josh and I moved into our own place, and started getting things ready for the baby.
My mom was right there with me. She drove me to the doctor, took me to lunch, stayed on the phone with me when Josh was working third shift and I was scared. She is the one who drove me to the hospital when my water broke at 12:00 at night! She held my hand and let me cuss at her for 4 hours and 21 minutes. That's how long my labor lasted. She didn't leave my side. (Josh is another story! He took a hour and a half to get to the hospital, then ate Taco Bell in the room and kept leaving to smoke!)
When Princess, our daughter, was 2 months old, I walked into my apartment and found Josh in bed with my best friend. (now EX ~ best friend) I blew up. I kicked him out with out a thought. Told him to leave the state. I never wanted to see him again. (Didn't even think about the fact I didn't have a JOB!) I found out quick I couldn't do it alone. I called my parents and asked for help.
I asked if Princess and I could come stay with them for a few months until I got back on my feet. They told me Princess could come, but not me. Thinking I was doing what was best for HER, I agreed. I got to see her all the time, she just didn't have to go friends house to friends house to sleep like I did.
I started dancing to make quick money. I didn't want to be away from her very long. 2 months later, I had a new apartment, and everything we needed. It was the end of August when I went to my parents house to pick her up and bring her HOME!
"We want to bring her to the beach with us first." My dad told me. I agreed. They had done so much for us! "Sign this paper so we can sign for medical things if something happens while we are gone." I sign. A week later I get something in the mail from the court house. Custody papers. I didn't understand!! Turns out that paper I signed giving them the right to sign for medical things was giving them CUSTODY of MY daughter!!!
I called Legal Aid.
The Legal Aid lawyer told me that with me dancing, visitation was the best I could get. I believed her. We went to court and got it, and I quit dancing. I found out later that she put in the papers that she would no longer be my lawyer, and that Legal Aid was splitting themselves from this case. That meant I had to pay for a lawyer to go back to court. I started saving. Before I had the money, they stopped letting me see her. They said it was because my son, who was a baby at the time, bit her.
When I got enough money for a lawyer, he found out that my parents had posted an ad in a news paper, in a city I had NEVER lived in, and took my rights away. We went to court for that last November, and I got them back. In April, visitation was rearranged, and things were put in place for custody.
I picked Princess up at 1:00 on July 27th 2008. We went to Little Man's baseball practice until 3:00, and then we were going swimming. We stopped and picked up hamburger meat and hot dogs, and went to our house. We changed and went swimming. After about 2 hours in the pool, Princess wanted to get in the hot tub. We got in for a few minutes, and then went next door to Nana's house (The Man's mom) to cook. We ate, and then I left to bring Princess back to their house. As we were walking to the car, Princess wanted to pick my mom some flowers out of my garden, so I let her.
When we got there, Princess gave my mom the flowers, and she asked where Princess picked them. I told her that she picked them from my garden, and that's when my dad blew UP!
"You brought her to your HOUSE?" He yelled. I said "Yeah, we went swimming." He told me that this would be "the last time I ever saw her" and for me to "get out of here, Jenny. I hate your GUTS!!" I said "Please don't talk like that in front of my daughter." and he said "I don't care. I HATE YOUR GUTS!!" I said "Bye Princess , I'll call you tomorrow." He said "Don't call my house again." and I said "I'll call tomorrow!" He told me that he wasn't going to answer.
That was the last time I saw her. 2 years ago. I still call every night at 7:00pm, and they still don't answer. I can't afford an awesome lawyer, and that is what I need. The lawyer that I want to take my case is $600 for 1/2 a day in court plus a $1500 retainer. She thinks we will be in court for at least 3 days. $4500 AT LEAST!
I believe that one day Princess and I will be together again. Even if it takes him dying for it to happen.