I'm linking up with
My Little Life
today to answer some questions and get to know some new people!
Feel free to link up, too!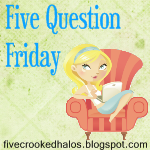 1.
If you could be a fly on any wall, which would you choose?
This question has me stumped! I guess I would want to be a fly on the wall of the other parents. When Little Man is with his mom, I worry and when Monkey is with his dad, I worry. By the way, can I have a fly sized recorder with me? Please??
2.
Do you budget your Christmas shopping or just get it done without budgeting?
We always
try
to set a limit, but seem to always go over. We find such great deals that we can't help ourselves!
3.
What is the craziest fad diet you have ever done?
I have never really done a fad diet. As a recovering anorexic, I don't even own a scale. I don't know how much I weigh. I always think I need to lose weight, well inches, but I don't diet.
4.
Is there a TV show that you have seen every episode/season of?
Too many to name! I have watched every season of A.N.T.M., Gossip Girl, Law and Order SVU, CSI Miami, Vampire Diaries, Make it or Break it..... I have never seen an episode of Glee, though!!
5.
What one song always pulls at your heart?
"In The Arms Of An Angel" by Sarah McLachlan. I can't listen to that song without crying.