This little guy has it's own home right beside our bed.
I have raved about how much The Man and I love massage candles before,
The Snow Pear and Cedar Wood is a soft, relaxing scent.
It is very light and clean smelling.
I was very impressed with this scent.
Light and let burn for about 10 - 20 minutes,
depending on how much oil you need,
use a plastic spoon to spoon the oil into your hand
[to avoid a messy jar]
and watch the magic happen.
The soy wax formula, infused with Vitamin E
leaves both the massager and the massagee moisturized.

The candle doesn't burn evenly,
so after I lit it as much as I could, I melted the rest of the oil in the oven and
poured into a new holder.
Yes, this takes some time, but it is worth it to get as much use out of the oils.


At $29.99, this candle will be a definite reorder!
It's so nice to get more then just
sex toys
in the mail sometimes!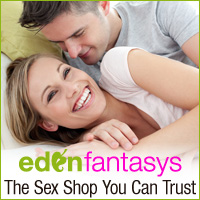 This post brought to you by EdenFantasys, an online
sex toys
retailer
I will receive a gift card for this post. I received at least one item in this post as a result of cashing in a gift card. All thoughts are mine and mine alone.