New panties are awesome.
I love slipping into a pair of brand new panties and showing The Man.
[He seems to enjoy it, too.]
When I found the panty line at
EdenFantasys
, I knew I was in trouble.
"What?" I thought to myself.
"I can get new panties every month with my Eden order?!?!"
[Yes, I seem to have an order almost every month. Don't be jealous.]
In my last order, I got 3 pairs of new panties.
The Naughty People Thong was featured a few weeks ago.
This week is one of my favorites.
The
Wet Look Booty Shorts
are amazing.
They really fit like a second skin.
[These are only $14.99! What a steal!]
These can be worn as regular panties or in the bedroom.
I match these up with the
Wet Look Tank Top
and a pair of
Wet Look Thigh Highs
for naughty time.
At EdenFantasys anything that you can imagine is possible.
From panties to lip gloss to
sex toys
, Eden is always on my wish list.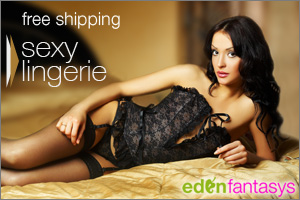 I will receive a gift card for this post. I received at least one item in this post as a result of cashing
in a gift card. All thoughts are mine and mine alone.