Sex.
There. I said it.
So many people don't like talking about sex,
but did you know that there is a whole community of
people on the 'Net that talk about sex all of the time?
You can make some great like minded friends
or shop for some new
sex toys
.
I love the
Community Corner
.
That's where you go to really connect with other Eden members.
They do a birthday shout out,
have a porn club, a book club,
and you can even vote to upgrade others!
[If you are an advanced reviewer.]
If you have questions, there is always someone to answer.
You will never waste money on toys that disappoint.
If that isn't enough, you can follow Eden on
twitter
!
[
Follow me, too!
]
Eden even has a blog where you can win free stuff!
[Who doesn't like free stuff?]
Eden is the sex toy shop that you can trust.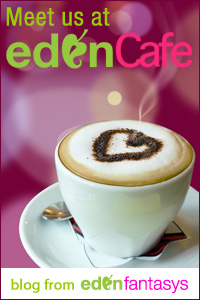 *I will receive a gift card for this post. All thoughts are mine and mine alone.