Hey guys and gals!
I know that it has been awhile since I *gushed* about
EdenFantasys
,
so, I thought I would come back with a vengeance with something great!
It's a Kits For Beginners Giveaway,
and it has some amazing prizes!
Six different kits to choose from, and three winners!
There are less than 4000 entries right now,
and there is still 4 days left to enter!!
You get 12 entries, and they are really simple!
Have Twitter?
That can get you up to FOUR entries!
Are you a fan of all the Eden FaceBook pages?
That can get you up to THREE entries!
Pinterest can get you TWO entries!
There is even a #EdenU Participation Entries
#EdenU and they will give you a bonus entry! You can log in using your EdenFantasys screen name,
using Google, Facebook or Yahoo!
How awesome is that?!?
The great thing is, Eden has giveaways all of the time!
Make sure that you keep an eye on the
EdenCafe
page
for all of the incredible giveaways!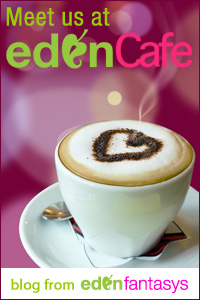 ***DISCLAIMER***
I am a blogger for the EdenFantasys website.
In exchange for this blog, the awesome people at Eden will send me a gift card.